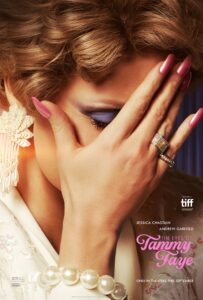 As someone with a low tolerance for Evangelical bullshit, I was reluctant to watch this movie. That said, Tammy Faye transcends the most toxic elements of that culture, and hey, she's a gay icon. For me, that was reason enough to give it a try.
I'm so glad I did. Jessica Chastain's performance was remarkable, so on point that I often forgot that I wasn't watching Tammy Faye herself. I loved her charisma, her empathy, and her well-meaning (if slightly clueless) demeanor. I especially liked the scenes where she ruffled Jerry Falwell Sr's feathers… words can't begin to express how much I hate that guy and all the damage he's done to this country.
Douchebags aside, I thoroughly enjoyed this movie. Would watch again!
MY RATING: ⭐⭐⭐⭐